Let's start to learn about how to tag your media efficiently using Music Tag Editor for mac (shortly for MTE). You can directly download Free Trail Version Here.
OverView
Figure 1 is the main interface of MTE, as the figure showed out, it's mainly divided to 5 sections. Which is:
Section 1 : Files Library. It's responsible for managing media files, the columns is fully customized, the results can be filtered by search keywords. Also, by the right click of particular media file, you can do almost everything through the menu.
Section 2 : Edit board. It's the main workspace to do your tag edit work. Almost every type of tag are supported. Even you can add some custom tags to media's metadata. We will later talk about how to do batch editing.
Section 3 : Audio preview. By double click of media in library, the media will be played. you can preview the audio. And control play / pause through the preview board.
Section 4 : Main functions. On the toolbar, You can do lot's of things, like import medias, batch saving, restore edit, search cloud, batch renaming, fix text encoding and so on.
Section 5 : Bottom shortcuts. Some shortcuts for the convenience of file management.
Figure 1: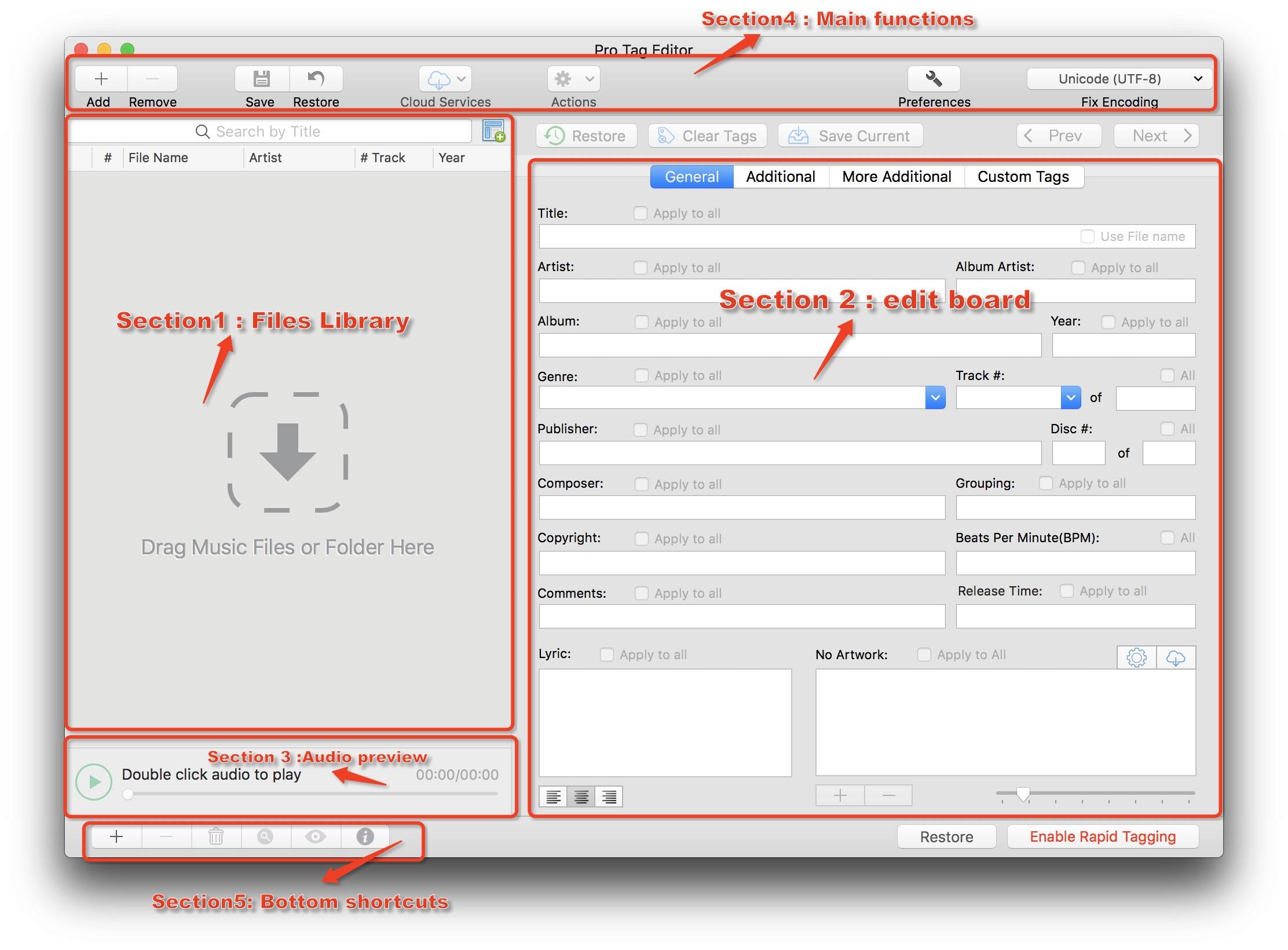 Step to Step
Figure 2: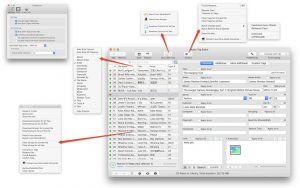 Figure 2 show the typically interface while you doing the tag edit work.
Just Drag the media files or folder from finder and drop to the Files Library. Or Click the "+" button on toolbar or bottom shortcuts area.
hints of media file while editing.
you might have noticed the the hint beside the file in library. It pointed out the status of the media file currently presented. As it shows:

-> the green dot means that the file is is clean yet, the metadata has not been modified.

->the red dot means that the file's metadata has some changes to save.

->this wave point out that the file is currently playing.

->the warning stand for there is some error happens to this file.
how to customize the library columns?
Figure 3: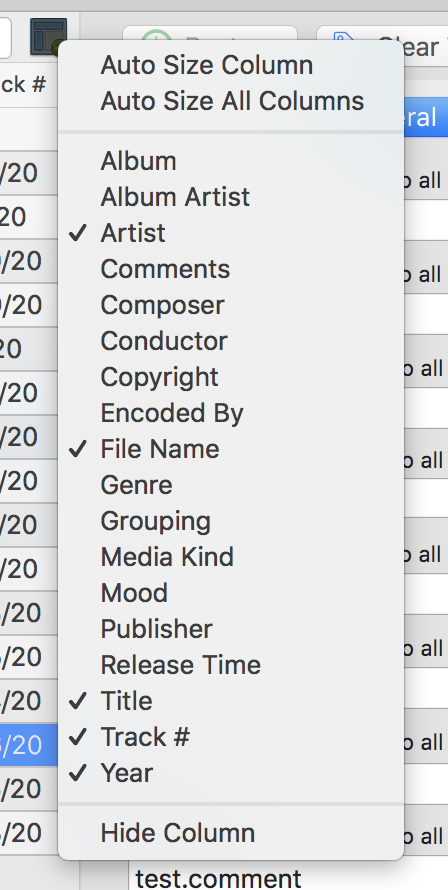 the entry of this function is on top right of files library. you can do column costomization through the popped menu. the column showed in library will be checked with checkmark. uncheck it by click the menu item again. Auto Size function will resize the table column to fit with the max width of current column.
The batch editing function is completed by two steps:
1.check the "Apply to all" checkbox on Edit board of the tag text you want to apply to all files in library. As follows:
Figure 4:

2. click "Save All" button on top tool bar to do batch editing. Or with keyboard shortcut "⌘ + s"  ,  Or keyboard shortcut "⇧+ ⌘ + s" for "Save as…" operation.
It's so simple to do batch editing!
Notice: If you just want to save the current file editing. Click the "Save Current" button on top of edit board. Functions in this area is  aimed at the current editing file.
how to download tags from cloud?
MTE support to download lyrics or artwork directly from cloud to single file:
Figure 5:

or to all files in library:
Figure 6: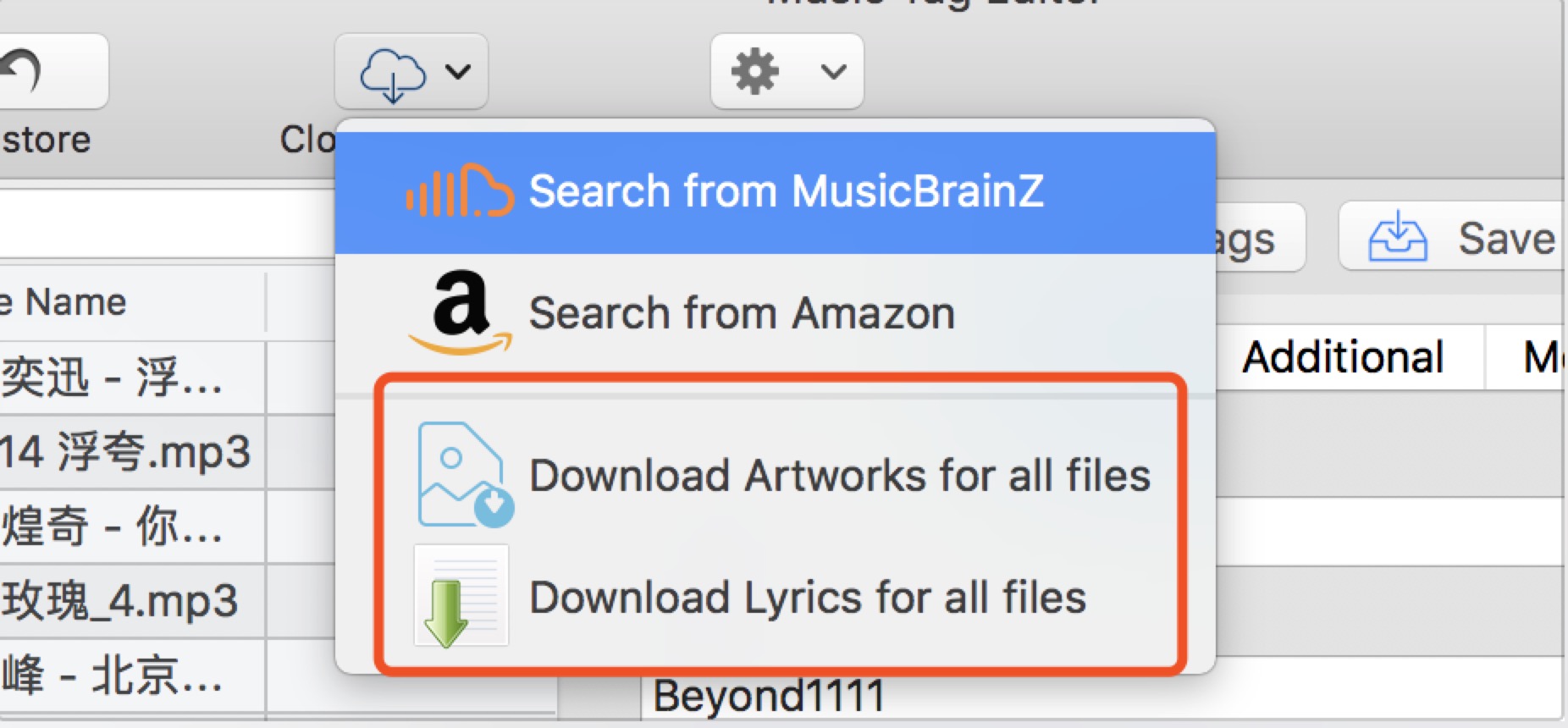 Other tags like "Title","Artist","Copyright"…   MTE also support to match the proper tags for the file. As shown in Figure 6, Click "Search from MusicBrainZ" or "Search from Amazon" :
Figure 7: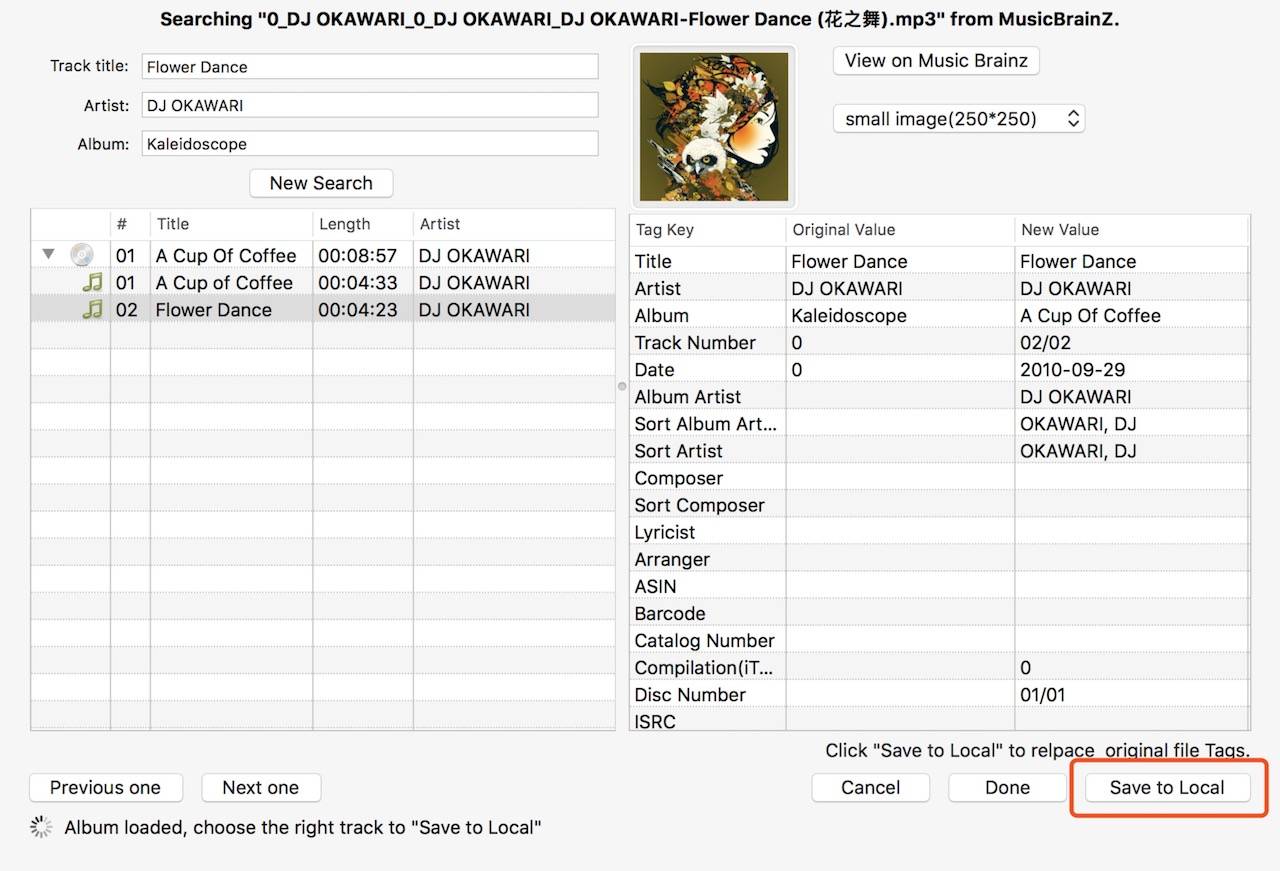 click "Save to Local" to use the result that properly matched. The same to "Amazon Search".
Figure 8: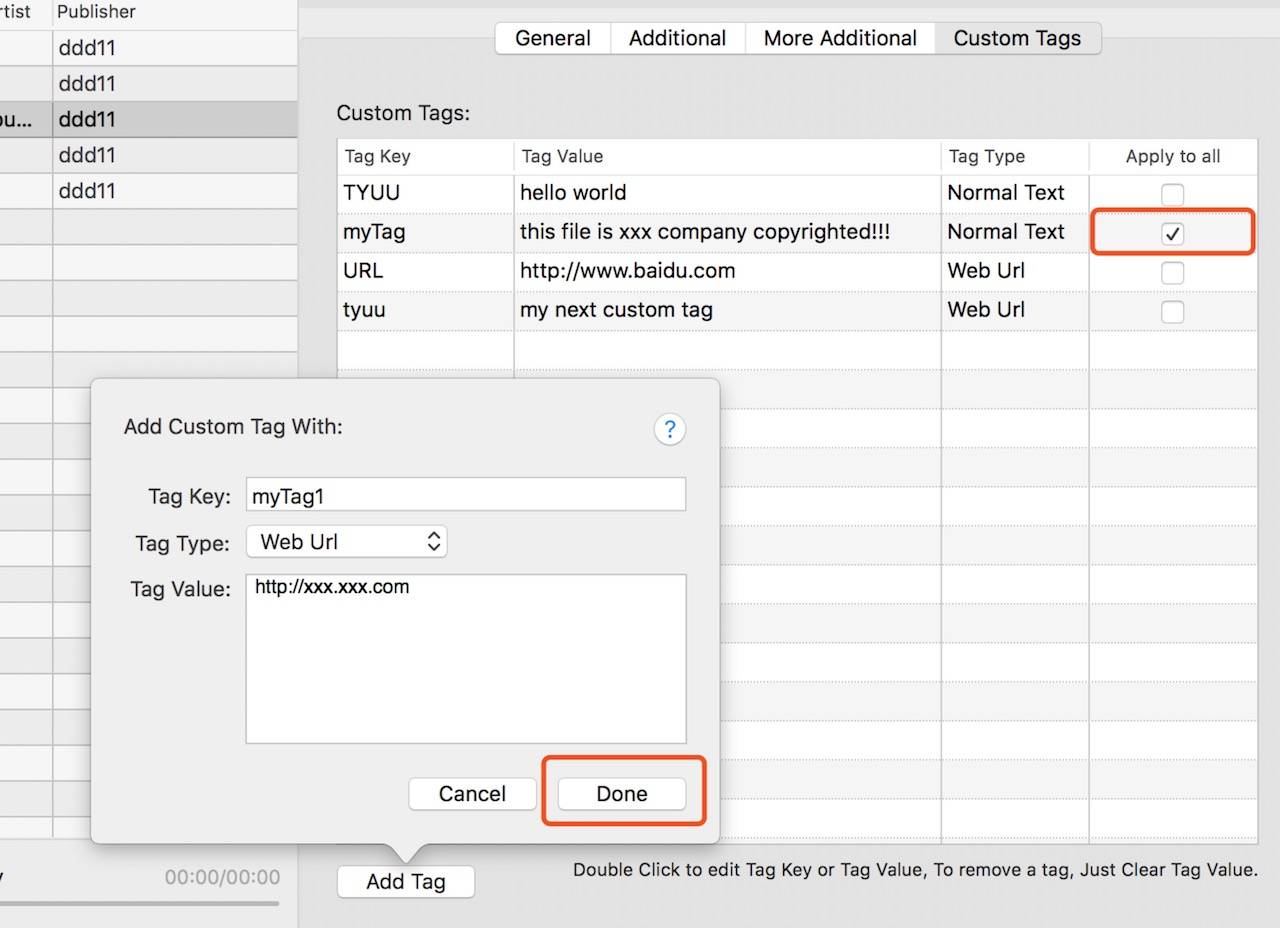 As Figure 8 shows, the "Custom Tags" tab of Edit board did this trick. By check the "Apply  to all" checkbox of each custom tag, you can easily batch apply this tag to all files in library. It's never been so simple to custom tags of media files!
Music Tag Editor support to fetch Tags from MusicBrainz and Amazon web service. You can start this by click "Cloud Service" on top action bar.
view details about Search from Amazon. Search from MusicBrainz is similar.
Figure 9:

Figure 10: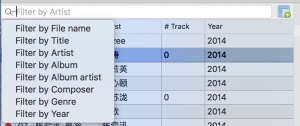 You can filter the Library using "File name", "Title", "Artist", "Album"(and so on) of Tags. If you have hundreds of files in Library, This function may be helpful! You can then only focus on files filtered by key tag. And In this case "Save All" operation will only perform on those files actually visible in filtered Library.
About Products
We provide 3 versions of Music Tag Editor for mac in Mac Appstore:
Music Tag Editor | Music Tag Editor Pro | Music Tag Editor Lite
Advance features in Pro version:
1.Edit Additional and Advanced Tags.
2.Custom and edit any tags you want.
3.Batch Find & Replace all tag fields in one click.
4.MusicBrainZ Cloud services supported.
You can free trial the functions with Lite version, And if you want the full functions , just "Enable Rapid Tagging" to upgrade to Pro version!
More…
If this Guide document is not helpful for you. Or it not solve your problems. Please contact us to let me known, And if it's a common problem, I will append it here!
Useful materials